In case you missed it – Paul Murray, the former longest serving Editor of any major Australian newspaper, got stuck in to the bullshit inundating Lord Mayor Lisa Scaffidi (below).  If Ms Scaffidi gets her butt kicked by State Administrative Tribunal over travel issues so be it, but then its time to move on.  It is, however, crucial WA Labor moves to bring the Local Govt Act in to the 21st century, addresses concerns about the effectiveness of the Dept of Local Govt & Communities and, given  today's councillors earn circa $100,000 for a four-year term, establishes avenues to trigger reviews of individual councillor performance, as well as that of Councils.
Premier's attack misses mark

Later uploaded as "Premier's 'gutter politics' in shafting Scaffidi"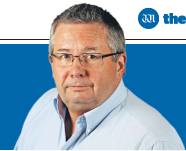 Paul Murray, The West Australian,  Wed 12 April 2017
The State's first citizen does need to adopt a level of decorum.
There's a certain level of statesmanship required from those politicians who get elevated to the post of Premier. It becomes fundamental to their success.
The State's first citizen is not expected to be above politics, but does need to adopt a level of decorum consistent with the office.
Premier Mark McGowan made a misstep last Friday when it seems his office leaked to the media a letter shafting Lord Mayor Lisa Scaffidi before she had even read it.
This was not an exercise in open government.
If it was, we can expect that all of the new Premier's correspondence will be made public as soon as the ink is dry.
This was an exercise in gutter politics, using one chosen journalist as the spear thrower for McGowan's assault on a political target in another tier of government.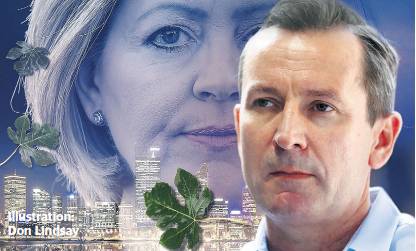 Illustration: Don Lindsay
Labor has long had a naked ambition to take over the city council, but the Premier's latest tactic brings him no credit.
It is an ugly look for a State Government to be demanding the removal of elected officials in local government in the absence of any substantive ratepayer backing for such a move.
How would McGowan react to the same questionable tactics from Prime Minister Malcolm Turnbull if he decided he didn't want to deal with the Premier?
It would look like bullying.
McGowan has been blustering for months in the media that he wanted to sack the PCC.
Sometimes a substantial caveat was reported: As Premier he would do it if the Local Government Act allowed.
He never appeared to be asked why he had not simply sought advice on whether there were lawful grounds to sack the council — or even just the Lord Mayor.
That should not have been difficult to establish because the matters surrounding Scaffidi's travel documentation and the subsequent infighting caused by just three of the nine councillors are well established.
McGowan's Friday gambit suggested he knew he could not remove the council, so he resorted to the bully pulpit to achieve Labor's aims of removing the Lord Mayor.
It raises the obvious question of the McGowan Government's intentions with local government generally. Will the Premier seek to interfere in other councils when he doesn't agree with them or if someone's face doesn't fit?
His next position was that he wouldn't act until the State Administrative Tribunal handed down its decision on the Local Government Department action over Scaffidi's travel disclosure breaches.
Frankly, that was another fig leaf to hide his impotency because he never raised the long-running SAT case as an inhibitor when he was firing broadsides from Opposition.
And then on Monday we saw the Premier bemoaning that he had no power to sack an individual councillor, something most people familiar with local government already knew.
And McGowan is a former Rockingham councillor.
But what about his former threats to sack the PCC?
Where does that stand?
Why is he now seeking new powers — which would take some time to acquire, if a hostile Upper House agreed — to sack individual councillors when he said he wanted the whole council gone?
Perhaps the Gang of Three who are behind the agitation at Council House are worried that they might not get re-elected if the Government sacked them all and called a new poll?
This is how the events unfolded on Friday.
Mid-afternoon Scaffidi was contacted by Daniel Emerson, a political reporter for this newspaper, asking for a response to a letter he said had been written to her by McGowan.
It was apparently a reply to Scaffidi's request that the new Premier convene the City of Perth Committee as he is required to do at least twice a year under legislation.
Scaffidi then checked her emails and discovered a letter from the Premier, clearly written to marginalise her. Until then, Scaffidi had not seen any letter from McGowan and she rang Emerson and asked how he knew about one.
Now, there's no criticism here of the reporter.
He did what any journalist would do when such information is made available.
It doesn't take much imagination to work out that the letter was passed to Emerson to make the most of the impact of The Weekend West which has the highest penetration of any media in WA.
Scaffidi called a press conference to respond rather than be ambushed the next day.
The Scaffidi disclosure breaches are historic in nature, dating back to 2008 with the most recent being 2014, and were mainly caused by administrative failures in council procedures.
They had escaped the attention of the asleep-at-the-wheel Department of Local Government until an investigation of Beijing Olympics hospitality in America alerted Australian authorities in 2015.
While the breaches are regrettable, there is a simple test people should apply: Has there been a more effective Lord Mayor of Perth in living memory?
When Scaffidi beat one of the Gang of Three at the most recent mayoral election, the matters to which McGowan refers were on the table and the Corruption and Crime Commission had released its damaging report only two weeks before.
She continues to retain the support of the five other councillors, so McGowan's written expression of a lack of confidence amounts to little because he doesn't have a vote at Council House.
However, the Premier has a couple of allies in the PCC chamber and the ever-present agitation of two former mayors of the Labor stronghold in neighbouring Vincent, now both members of his Government, who have assiduously worked against Scaffidi.
Remember that Scaffidi's council threatened to swallow up the people's republic of Vincent during Colin Barnett's hapless council amalgamations period, earning her even further retribution.
Ironically, Scaffidi got no protection from the Barnett government — and continues to get none from its remnants – because she is not a Liberal.
That aside, members of the Gang of Three calling for Scaffidi to step down hardly fits the definition of news as was presumed in weekend media reports because they have been barking it non-stop for a year.
But it does meet the definition of tedious repetition.
In politics, it's all about the numbers.
And the gang doesn't have them. It's just part of an attempt, aided by some in the media, to create a continuing sense of crisis around the council.
The three councillors have adopted the role of an Opposition and with that comes a certain irrelevance when you can never muster the votes to get a win.
One of them, Cr Jemma Green, rang in to a 6PR panel discussion on March 17 and made a startling admission when asked by Channel Seven's Geof Parry if the council was dysfunctional.
"From a government perspective, dysfunctional means that motions are not being passed by the council and frankly that's not the case," she said.
Such insight.
Article by Paul Murray appeared in The West Australian,  Wed 12 April 2017 and can be found online here: https://thewest.com.au/opinion/paul-murray/premier-mark-mcgowans-gutter-politics-in-shafting-lisa-scaffidi-ng-b88443186z